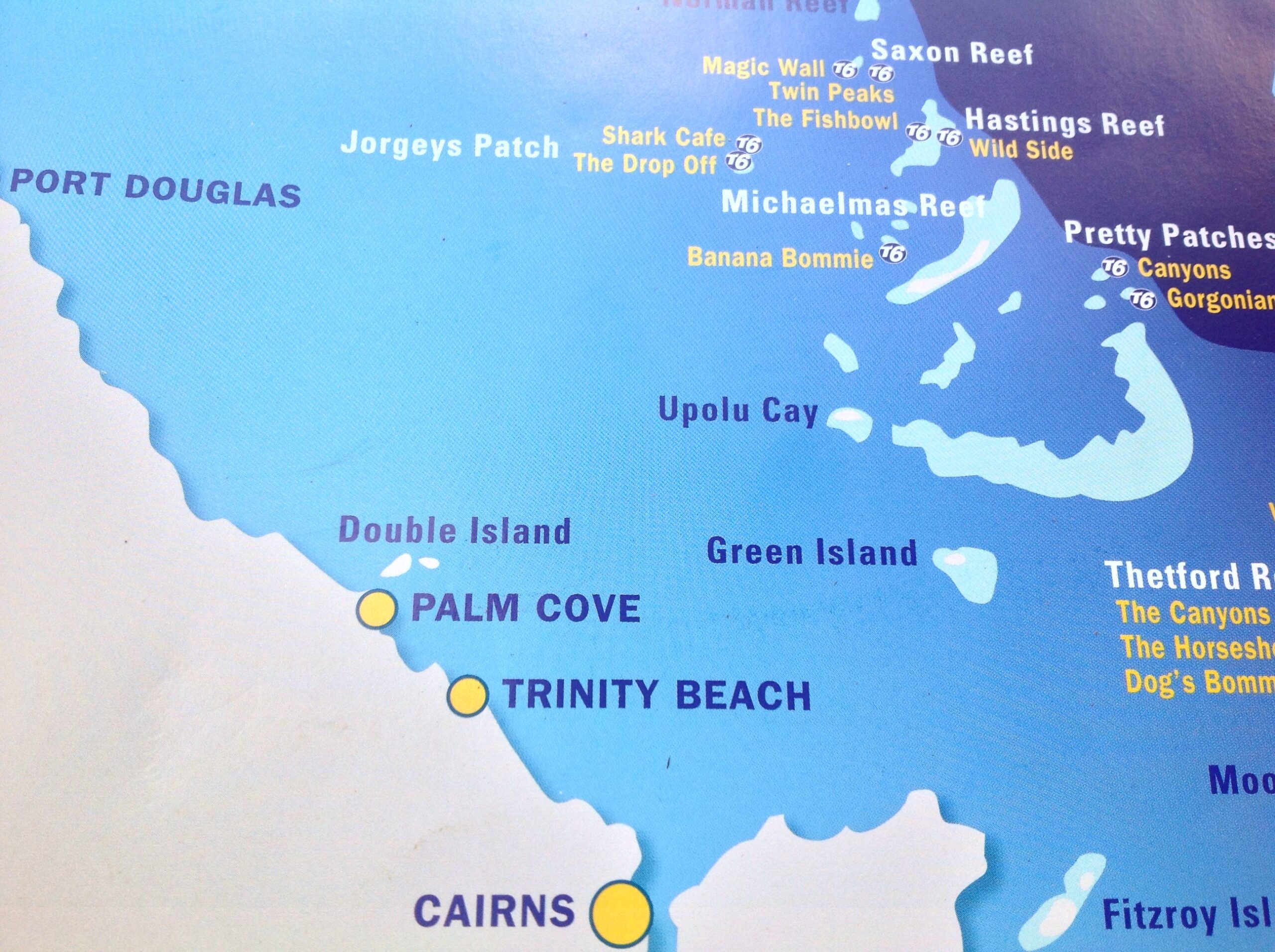 I'm sitting on the coast of Cairns, Queensland, Australia, looking out at the South Pacific today. I'm watching dive boats returning from a day on the Great Barrier Reef, and a sailboat, with a hot pink spinnaker sail, is capturing my attention. Private helicopters and chartered planes are giving tourists from around the world spectacular aerial views of the world famous reef. And the birds seem too amazing to be real! Colorful and confident, they're flying and walking around me without a care. The more time I spend here in Cairns, the more I understand Charles Darwin.
It's been a few days since I went out to dive the Great Barrier Reef with Tusa Dive company. It took me a couple of days to process, and today, I think I'm able to recount what had happened.
As I mentioned in my previous post, my friend Jeremy dreamed we were scuba diving, and then, without my knowing, he registered us to get PADI certified. Not exactly confident in the water, I went along with it because I wouldn't be doing it alone.
I think of myself as a fairly adventurous, risk-taking person. When I pause and recount my many adventures (seven continents, scores of countries, nearly as many passport stamps as Joel Holm, etc.), they have one thing in common: I was with friends or family. When I was driving around New Zealand's north island, on the "wrong" side of the road, getting pulled over by a lovely lady standing on the side of the road, I was with Izzy. (Yes, we recorded the incident because, back in Los Angeles, the cops sort of have to catch you…and here I was getting a speeding ticket by somebody's Mom, in an ankle-length jean skirt, who had simply smiled and waved at me).
When I was summitting Tanzania's Mount Kilimanjaro, Africa's tallest mountain, with my Maasai tribal guide, who was wearing the colorful "rag quilt" my Mom had made for my travels over his shoulders, as a symbol of our friendship, I was with Jeremy. When I was running the 2003 Los Angeles Marathon, obese yet determined, I was with Joanna. When I was stepping onto Antarctica's frozen terrain, accomplishing my goal of traveling to all seven continents before I turned thirty, I was with the guy who inspired me to see and do it all, my Dad.
There is something beautiful about living life with friends and family that I didn't realize until I stepped off the back of the dive boat.
On the outside, I was ready to dive 20-30m (65-95 feet) and explore Australia's Great Barrier Reef. Mask, snorkel, BCD, regulator, weight belt, full tank of air, stinger suit, fins – check! On the inside, I was nervous. Surrounded by other certified divers, I felt more alone than I had realized.
Geared up and with my team of international divers, I stepped off the dive boat and into "The Fishbowl" in Hastings Reef. It was as warm as bath water!
My gear was working, but I couldn't breathe. I was panicking.
I tried to take a few short, deep breaths, but I couldn't get air into my lungs. As much as I tried to relax, I couldn't get air. Have you ever not been able to breathe? One by one, the other divers were descending. Just under the surface of the water, my Israeli dive instructor asked if I was okay. (In sign language, the letter "F" is the signal used by scuba divers to both ask if a fellow diver is okay and to also reply that you are okay).
I signaled I was not okay, then signaled I needed to surface by giving her a "thumbs up." Panic set in at the thought of going deeper, still unable to breathe. On previous dives, I used much less oxygen than other divers. I typically breathed slowly and deeply, so I knew something was not right.
The rest of my team descended while I re-boarded the dive boat. I removed my gear, sat down, starred out at the water, and wondered waty had just happened. As I sat there, confused, a lady that reminded me of my Mom, asked if I was okay. We started talking and she said her daughter was one of the dive instructors on the boat. She said I was probably just a bit nervous and that her daughter, Jess, would take me out and help me regain my confidence. I love Moms! Even when they're "off duty," they're still Moms 🙂
I snorkeled for about fifteen minutes then went diving with you know who- Jess. Her Mom was right. Jess was just what I needed! Her sweet demeanor and patience helped calm me and I was able to breathe normally. Her funny personality got us both laughing underwater, and I felt back to my normal, adventurous self.
When it was time for the next two dives, I was ready! I stepped off the back of the dive boat and finally enjoyed the Great Barrier Reef! Shane Savich, a Minnesota native and current Cairns resident, was the perfect dive partner! When we weren't being mesmerized by human-sized clams or see-through fish, we were swimming like mermaids and doing somersaults at the bottom of the Pacific! Thanks to Jess's Mom, Jess, and Shane, diving the Great Barrier Reef went from being horribly "breathtaking" to a wonderful adventure of a lifetime!
Going forward, I'm not sure I'll avoid adventuring out alone, but I do know this: my life is better, sweeter, and significantly more enjoyable when I'm surrounded by friends and family!