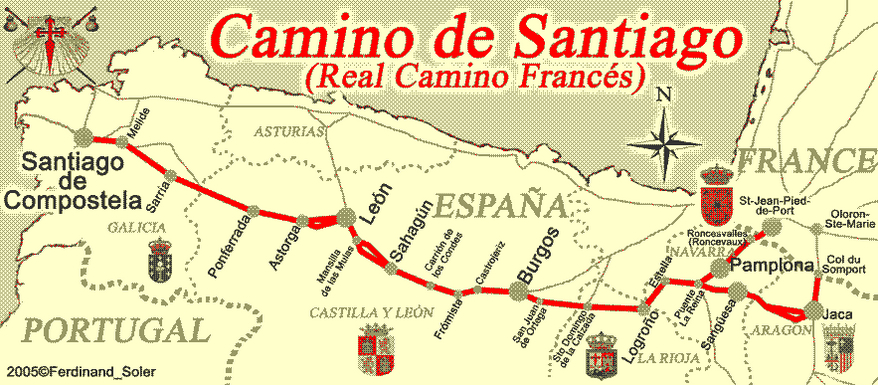 When my Mom told me she was thinking about going to Spain to walk "the camino", I had no idea what she was referring to.
El Camino de Santiago de Compostela (in English: The Way of St. James) is a network of routes across Spain and Europe which all lead to Santiago de Compostela, in the northwest of Spain. In the Middle Ages, these routes were walked as a pilgrimage to the tomb of the apostle St. James.
Nowadays, tens of thousands walk or cycle the Camino de Santiago every year in an epic journey of 500 miles. People from all over the world with all kinds of motivations: sport, culture, religion, nature, adventure etc., travel El Camino de Santiago, or parts of it, in a lifetime experience. El Camino de Santiago has been declared World Heritage by UNESCO and the First European Cultural Itinerary. – http://www.caminosantiagodecompostela.com/

Growing up, my Mom was in the bleachers of every game, tournament, or competition I ever had. I played in Europe, on club / travel teams, and in college, so there were a few. I don't remember my Mom ever saying she wanted to have a go and see what it would be like to be an outside hitter on an adult women's volleyball team, or play shortstop on a baseball team. She was more of a Super Mom, with an invisible cape, doing all of the magical things stay-at-home Moms do.
In 2003, I ran the Los Angeles Marathon. It was 26.2 city miles and it felt as though it took me three days to complete. When I finally crossed the finish line, I told myself I would never do that again. Twelve years later, I have stayed true to my promise.
Five hundred miles is a lot longer than 26.2 miles. My calculator tells me it's 19.0839695 times longer. The more I researched El Camino de Santiago, the more impressed I became…impressed that MY Mom was going for it! Catchin' a flight to find her way to some 500 mile ancient road, through Europe, isn't exactly what I would expect from her. And that is one of the reasons why I am so pumped she's doing it.
By now, I have watched most of my peers find their groove in life. I wonder if they will change a few years down the road and discover new interests, make friends with a younger generation, writer a book, or if, indeed, the past is the greatest predictor of the future. I am of the mindset that most people are a version of whom they will become. But now, my sweet Mom has me twisted.
What would inspire a 60 year old, wife of nearly forty years, mother of three, sister, sister-in-law, daughter, cousin, neighbor, friend, Bunco babe…to walk five hundred miles across northern Spain?
When I ask her why she's doing it, she has a hard time answering. She just knows she needs to. GOLD. I am a huge supporter of people who are able to listen to their gut, their instinct, their inner voice, and go, do, act, accomplish.
My wonderful Mom has always been my #1 fan, now, I get to turn the tables and be hers!